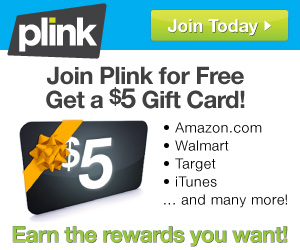 *The free 500 points ($5.00) takes about 5 minutes to show up in your account.
Join Plink for Free and receive a $5 gift card of your choice. Choose a gift card from places like: Amazon.com, Home Depot, Walmart, Facebook and more.
Once you join you can earn Cash & Rewards just for eating and shopping at some of your favorite stores and restaurants. You'll earn rewards at more than 40,000 locations nation-wide. Free to join.
Plink is a registered card program that allows you to earn Plink Points and other online rewards for dining out and shopping offline. You select where you want to eat or shop, and Plink activates those offers on your credit or debit card. It's easy and safe!
Plink is designed so you don't have to carry around an additional card, print out coupons, or use some sort of code to get your rewards. Simply pay with the credit or debit card you register with Plink when joining and we'll automatically give you your rewards.
To qualify for the $5 Gift Card, you must be a new user. Valid user information required. Securely and successfully connect any credit or debit card to your Plink account.
Start earning in 3 easy steps:
1) Sign up – it's free!
2) Register your card to get your $5 Gift Card
3) Get rewards when you shop & dine out at your favorite places.
Categories: Freebies, Freebies in My Mail, Gift Cards, Online offers, Rewards
Sorry, comments are closed for this item.