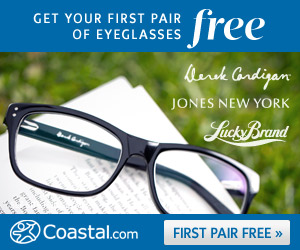 Get your first pair of glasses FREE from Coastal Contacts (shipping averages about $13.00). Use code: FIRSTPAIRFREE (includes standard lenses). Try them on at home and if it the frames don't fit, return shipping is free!
Categories: Accessories, Apparel, Beauty, Beauty, Coupon Codes, Freebies, Health & Fitness, Health & Fitness, Hot Deals
Sorry, comments are closed for this item.